What is This Awful Disease Called Dementia?
Dementia is a loss of cognitive ability that is severe enough to interfere with daily life.
Dementia is a descriptive term for a collection of symptoms that can be caused by a number of disorders that affect the brain.
Dementia could be:

Static: result of a unique global brain injury.
Progressive: resulting in long term decline due to damage or disease in the body.
The Impact and Diagnosis of Dementia
People with dementia have significantly impaired intellectual functioning that interferes with normal activities and relationships.
They lose their ability to solve problems and maintain emotional control. They may also experience personality changes and behavioral problems such as agitation, delusions, and hallucinations.
Doctors diagnose dementia only if there is a decline in memory coupled with a decline in one or more of the following brain functions – language skills, motor skills, abstract thinking, perception, or cognitive skills, including reasoning and judgment.
The Cost of Dementia
The total estimated global cost of dementia in 2018 reached above $1 trillion dollars.*

This means that if global dementia care were a country, it would be the 18th largest economy in the world. The annual costs exceed the market values of companies such as Apple ($742 billion) and Google ($368 billion).

The real cost:

Loss of loved ones
Loss of an entire generation of wisdom
Loss of precious memories
*This figure includes costs attributed to informal care (unpaid care provided by family and others), direct costs of social care (provided by community care professionals, and in residential home settings) and the direct costs of medical care (the costs of treating dementia and other conditions in primary and secondary care).
Alzheimer's Disease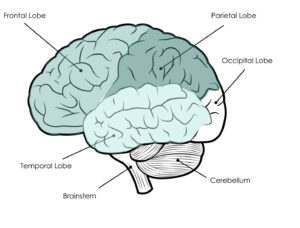 Most common type of dementia found in people aged 65 or older.
1 in 9 people age 65 and older has Alzheimer's disease (11%).
5.2 million Americans are estimated to have Alzheimer's.
By 2025, over 7.1 million Americans will have Alzheimer's.
Every 68 seconds, someone in the United States develops Alzheimer's.
Alzheimer's disease usually causes a gradual decline in thinking abilities, usually during a span of 7 to 10 years.
In this disease, abnormal protein deposits in the brain destroy cells in the areas of the brain that control memory and mental functions.
People with Alzheimer disease also have lower-than-normal levels of brain chemicals called neurotransmitters that control important brain functions. Alzheimer disease is not reversible, and no known cure exists. However, certain medications can slow its progress.
Dementia Vs. Alzheimer's Disease - Is there a difference?
Dementia is a syndrome that is used to describe an overall group of symptoms that affect a person's memory, communication, and ability to perform normal daily tasks. Alzheimer's disease is a specific form of dementia, affecting a specific region of the brain causing impairment in memory and cognitive function.
The rising number of dementia diagnoses:
In 2018, Alzheimer's Disease International released an updated fact sheet to their 2015 World Alzheimer's Report: The Global Impact of Dementia, with staggering statistics of over 50 million people currently living with dementia worldwide. This is more than the entire population of Spain. By 2050, this number is estimated to increase to 152 million.
Image citing: The Global Impact of Dementia Infographic.
Data from: "The state of the art of dementia research: New frontiers" by Christina Patterson, Chris Lynch, Annie Bliss, Michael Lefevre, and Wendy Weidner, Alzheimer's Disease International, published in World Alzheimer Report 2018, Forward, Page 34, September 2018.
Approximately 15% of the U.S. population aged 70 and older has dementia; in 2010 dementia care cost the U.S. up to $215 billion per year ($11 billion of which is paid for by Medicare), with the average cost of care for a patient with dementia is between $41,689 and $56,290 a year ("Monetary costs of dementia in the United States." Hurd MD, Martorell P, Delavande A, Mullen KJ, Langa KM. , N Engl J Med. 2013 Apr 4;368(14):1326-34). The aging of the U.S. population will result in an increase of nearly 80 percent in total societal costs per adult by 2040. By 2050, this amount will exceed $1 trillion annually, and will bankrupt Medicare.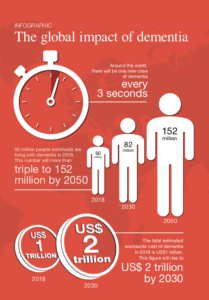 One in three adults 65 and older dies with dementia. Having dementia can interfere with care for other conditions like cancer or heart disease, further adding to health care costs. Dementia refers to symptoms caused by disorders that affect the brain, impacting memory loss, interfering with normal activity and causing personality changes. Brain damage, strokes or diseases can cause dementia.
Alzheimer's disease is the most common form of dementia, at 60-80%, (totaling 5.4 million adults in 2012, or one in 8 people over age 65 in the United States, and nearly 50% over age 85) but there are over 100 types of dementia, including vascular dementia from small strokes, which accounts for up to 20% of dementias, dementia from Parkinson's disease, and Frontotemporal dementia (which accounts for 10-20% of dementias). "Mixed dementia"—Alzheimer's plus another type of dementia—has been shown in autopsies to occur in up to 45 percent of people with dementia.
No medication exists to slow or stop the progression of dementia (which the FDA refers to as "disease-modification").
Rising rates and a lack of an effective cure against dementia prompted the Obama administration to unveil its National Alzheimer's Plan. Their hope, to find a better treatment for the devastating disease by 2025. In 2011, the federal government allotted $450 million for Alzheimer's research through the National Institutes of Health, compared to over $3 billion for HIV/AIDS, over $4 billion for heart and cardiovascular disease, and nearly $6 billion for cancer.
In February 2012, the Obama administration announced an increase in the federal budget for Alzheimer's research of $130 million, bringing the total to $580 million. Alzheimer's disease is the fifth-leading cause of death in the United States for those age 65 and older, but the only one in the top ten without a means of prevention, a way to slow its progression, or a cure. In 2012, more than 15 million unpaid caregivers in the US provided 17.5 billion hours of unpaid care (value of $216 billion). A rate that we cannot as a society continue to let grow and progress.
Clear Thoughts Foundation is dedicated to funding breakthrough drugs and novel treatments that fundamentally stop these diseases.
Helpful Resources to Learn More About Dementia
Clear Thoughts Foundation ("CTF") is singularly focused on its effort to raise money to fund the discovery of drugs to stop the effects of dementia and eventually end this terrible disease. However, CTF recognizes the devastating effect that dementia has on the families impacted by this disease. Fortunately there are a number of wonderful resources available that we recommend for caregivers and families impacted by dementia to turn to for education and support.