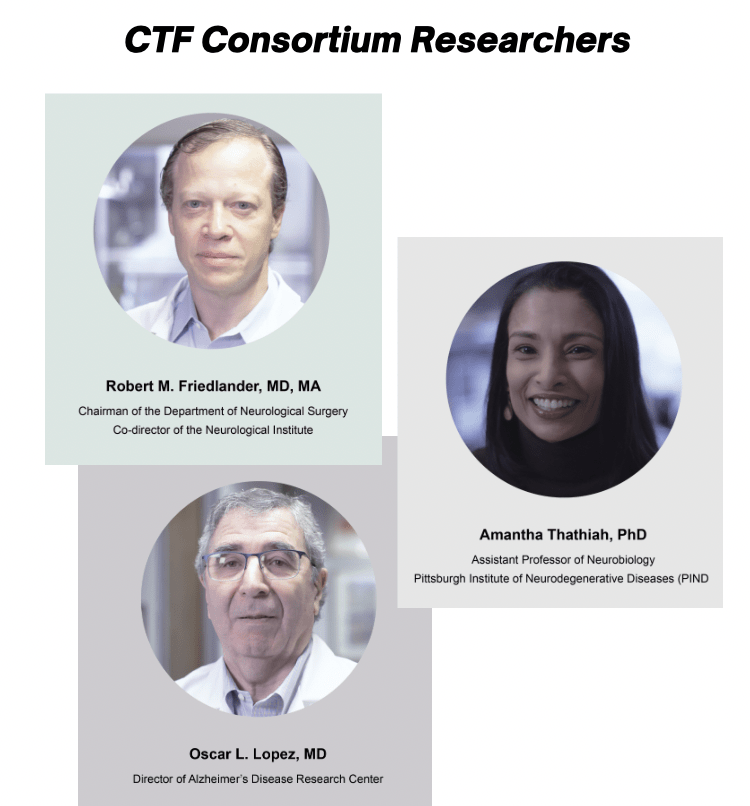 Wednesday, September 21 from 5:30-7:30p.m.
200 Lothrop Street, University of Pittsburgh Biomedical Science Tower, Oakland Campus
We are excited to announce that our annual CTF Connect event is back and will be held in-person this year! Join us for an informational evening to learn how your generosity is helping to advance medical breakthroughs in the fight against dementia. All three CTF Consortium researchers will be speaking on their collaborative research advancements made possible by your donated dollars. Take a tour of their incredible lab spaces to see your donations in action and get your questions answered!
Event speakers to include:
CTF Consortium Researchers - Dr. Robert Friedlander, Dr. Oscar Lopez, and Dr. Amantha Thathiah
CTF Chief Scientific Advisor - Dr. Karl Herrup
CTF Founder and President - Hayley D. Jameson
CTF Executive Director - Cait Fenello
Parking will be validated for all attendees and light refreshments served. Mark your calendars and plan to join us for this exciting educational evening - space is limited so please complete the registration form below to ensure your spot!
Hear from CTF's passionate Founders on what makes the Clear Thoughts mission unique and the exciting research of the CTF Consortium.
Please register below if you plan to join with us at CTF Connect. This event is free and open to the public; however, space is limited so registration will ensure your access to research presentations, lab tours, refreshments, and more. You will also receive a registration confirmation email including all event details such as directions, parking garage location and free parking validation, evening timeline, and event venue map. Thank you for planning to join with us... we can't wait for you to see your donations in action!
Please note the important event details below:
Lab Tours: All individuals that attend CTF Connect will have the opportunity to tour either Dr. Robert Friedlander or Dr. Amantha Thathiah's research laboratory (Dr. Lopez's laboratory is unable to be offered for tour at this time given location). Please note that Dr. Friedlander's lab is an approximate 7 minute walk and Dr. Thathiah's lab is approximately a 4 minute walk. Although this event's after hours' time frame will provide limited foot traffic, attendees interested in seeing Dr. Friedlander's laboratory should be aware that they will have to walk through UPMC hospital for arrival. If an attendee is uncomfortable with this requirement, we recommend planning to tour Dr. Thathiah's laboratory which can be accessed outside of the hospital. These tours are not mandatory and will take place throughout the last 45 minutes of the event, with all attendees being escorted by a representative from the University of Pittsburgh.
Parking and Event Location: We get it - Oakland can be a confusing and overwhelming place! The map provided below will help you locate the parking garage and event location with ease. Please park in the notated garage, P-1, and utilize the elevators to arrive on level C (the main floor).