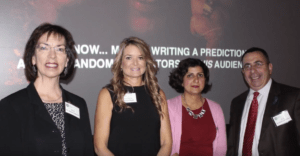 Pittsburgh, Pennsylvania – October 17th, 2014 | Clear Thoughts Foundation (CTF), a Pittsburgh-based not-for-profit organization, announced at their Magical Memories Gala, the creation of the Donald M. Jameson Jr. Fellowship. This Fellowship award will provide one year of support to a scientist designing ways to discover drugs to stop dementia. The inaugural Fellowship was granted to Dr. Roya DePasquale, a distinguished neuroscientist who is an expert on neurodegenerative diseases.
"I am so pleased and excited to create this Fellowship in memory of my father and his struggle with dementia.  CTF is honored to be able to award this fellowship to Dr. DePasquale, whose work in this area is leading-edge in the fight against dementia", stated Hayley Jameson, founder and president of Clear Thoughts Foundation. "With Dr. DePasquale's dedication to this research, I'm confident we can make a significant impact in the fight against dementia". Dr. DePasquale most recently studied neurodegenerative diseases at the University of Pittsburgh in the Department of Neurology and Molecular Psychology. She participated in National Institute of Health funded projects studying the pathophysiology of Parkinson's disease and has co-authored two papers as well as several conference proceedings and abstracts.  Hayley and the other CTF Board Members are all "so very excited about the work that Roya will be doing for CTF thanks to the amazing generosity of CTF's donors." 
The Fellowship will enable Dr. DePasquale to continue her research in Pittsburgh. To conduct this research, she will utilize laboratory facilities generously donated by Cognition Therapeutics Inc (CogRx).  CogRx is a Pittsburgh-based company established in 2007 to research the toxic proteins that cause the cognitive decline associated with Alzheimer's disease and other neurodegenerative diseases of the human brain.  "I cannot express fully my gratitude to CogRx.  They have generously donated $30,000 worth of laboratory supplies towards the CTF Fellowship," stated Hayley. "Their contribution to the research for a cure of dementia in all its' forms, coupled with their willingness to support CTF's efforts is truly overwhelming."
CogRx was co-founded by Dr. Susan Catalano who also serves as their Chief Science Officer. Dr. Catalano has over twenty years of scientific leadership experience in the fields of neurobiology and oncology, eight of them in Alzheimer's drug discovery research. Dr. Catalano received her Ph.D. from U.C. Irvine and postdoctoral training at U.C. Berkeley and Caltech in the field of neurobiology. Dr. Catalano also serves as the Executive Scientific Director of CTF.
"CogRx is pleased to be able to support the mission of Clear Thoughts Foundation" said Dr. Catalano. "We believe strongly that a grassroots effort is very important for keeping attention focused on the urgent need to discover effective treatments for these diseases. Pittsburgh is a perfect place to continue this fight since we have a generous community of donors who care deeply about dementia, and a world-class community of neurobiologists focused on these diseases.  Dr. DePasquale is a perfect example of the wealth of expertise we have here locally, and we expect her Fellowship work will significantly accelerate the search for cures. It's an honor for me to be part of the CTF team. Without their passion and the wonderful generosity of their donors, there would not be the funding that is so critically required to support this work."