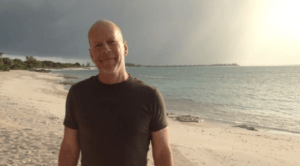 Beloved actor, Bruce Willis, and his FTD diagnosis…
As many of you have heard over the past 24 hours, the family of Bruce Willis has released an updated statement on his aphasia diagnosis from last spring… sharing that Bruce has been officially diagnosed with frontotemporal dementia, better known as FTD. For those who may not be aware, there are several types of aphasia that can be caused by (or show as a symptom of) dementia, specifically FTD. We are saddened to learn that as his doctors have continued to seek answers, this is unfortunately the case for Bruce.
Our hearts go out to Bruce and his family at this time, for we are all too familiar with FTD, as this was the very form of dementia that inspired the creation of CTF and our mission to fund breakthrough drugs and novel treatments to eliminate dementia.
Everyone has seen Bruce's brilliance on the big screen, so it is no shock that news of his new diagnosis has spread like wildfire across the country in just one day. Many have inquired about my feelings on this news and the truth is… I feel Bruce's diagnosis is no more or less horrific than any other persons on this earth, as I feel for EVERYONE who receives this devastating diagnosis. That is because the 'devil' in this horrific disease called dementia prays on the very essence of our being that make each one of us brilliant, unique, and irreplaceable. While I know first hand the detriment this disease will cause to him and his family (one that I would not wish upon my worst enemy), my hope is that it will not be in vein by allowing his well deserved platform of fame to awaken the world to action – funding the research necessary to find a cure for this awful disease once and for all!
I am confident Bruce and his family have set out to do just that, as I read these words from their released statement yesterday, "As Bruce's condition advances, we hope that any media attention can be focused on shining a light on this disease that needs far more awareness and research."
We hope you will help us all do just that by learning more about not only FTD – but all forms of dementia, supporting research seeking a cure, and by educating others… so that together we can one day see a world free of dementia!
To Bruce, his family, and all others fighting a battle against FTD – our hearts are with you in these dark days… but know that there is light through hope in a future without dementia.
Yours in the fight,
Hayley D. Jameson CTF Founder & President