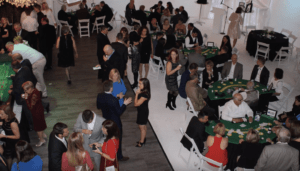 Patricia Sheridan – Pittsburgh Post-Gazette
The Place: J. Verno Studios on South Side, Saturday night
The Purpose: A benefit for the Clear Thoughts Foundation's mission to stop the effects of dementia.
The Party: Betting on a good time for a great cause were more than 350 guests who supported the Roll for a Reason Gala, which featured games of chance such as craps and blackjack. But, before the gambling there was bidding and browsing at the silent auction. Foundation co-founder Hayley Jameson (with her husband Gary Napotnik, son Trent Napotnik and daughter Chloe Napotnik) joined fellow co-founder, her brother Matthew Jameson, in welcoming everyone as they mingled. Also socializing was co-founder Sharon Sippel and guest speaker Michelle Palomera, who talked about her husband dealing with the disease at 50 years old. Currently an estimated 47.5 million people on the planet are living with dementia. Entertaining with a few tricks up his sleeve was strolling magician Lee Terbosic (who had just pulled off his Houdini "escape" last week, Downtown). Bubba of 100.7 radio emceed the party and the live auction. It was announced that Dr. Amantha Thathiah and the Pittsburgh Institute for Neurodegenerative Diseases was awarded a $50,000 grant from the foundation to continue her work in the area of Alzheimer's research.
The People: Among those bidding or betting were board member Carol Gomrick, Justin Meyer of the Pittsburgh Medical and Health Sciences Foundation, Fran Cain, Bob and Trudy Ward, Daniel Tarchick, Karen Wadsworth, Marc Mann, Julie Fassinger, Shannon and Sean Logan, James Cook III, Dave Colaizzi, Scott Fell and many more.