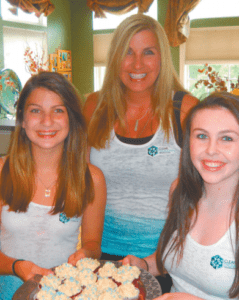 Baked Goods by Deborah Deasy – Pine Creek Journal – Sunday, June 8, 2014
BAKED GOODS
Annual cupcake fundraiser makes money to help fight against dementia
It takes a lot of eggs, sugar and determination to bake 700 cupcakes in one day.
Gearing up for the task are Pine-Richland Middle School students Sophia Hudock, 14, Chloe Napotnik, 12, and their one-time babysitter, Rachel Felt, 19, now a student at West Virginia University.
"We basically take from about 8 in the morning until 10 at night and bake all 700," Sophia said about the trio's annual marathon of measuring and mixing umpteen pounds of ingredients to ultimately raise money for the undoing of dementia.
The girls will offer their sweet creations on June 8 in Chloe's backyard in the Tanglewood housing plan, located near the Village of Pine shopping center on Route 19.
All proceeds will benefit the Clear Thoughts Foundation, which aims to help researchers discover medicines to reverse dementia.
"It's a misconception that it's a natural process of aging," said Chloe's mom, Hayley Jameson, who created the foundation in 2010 with her brother, Matthew Jameson of Hampton.
The siblings started the Clear Thoughts Foundation after their late father, Donald M. "D.J." Jameson, a former U.S. Steel Corp. executive, developed debilitating Frontotemporal Dementia (FTD). He died on Christmas Day 2013.
"He was always the life of the party," said his daughter.
Later this year, the Clear Thoughts Foundation will award a $60,000 grant to a Pittsburgh area scientist for dementia drug research.
In late April, foundation volunteers staged a fund-raising garage sale in advance of the upcoming bake sale, now a yearly event.
Chloe and Sophia planned to skip school for two days to get ready for their fourth annual bake sale on June 8.
"We do all our (cupcake) decorating on Friday and Saturday," Sophia said. "Our cupcakes are very elaborate and decorated to look very, very fancy."
The girls primarily use Duncan Hines cake mixes and recipes from "Baking with the Cake Boss" by Buddy Valastro. Their cupcake decorations include edible pearls and crystals.
A half dozen varieties of cupcakes will be available at the sale.
Prices are $1.50 per cupcake, or $12 per dozen, payable by cash, check or credit card.
The girls say their bestseller usually is a red velvet cupcake with butter cream icing. They also will offer assorted cookies.
"Everything in the whole bake sale is homemade," Sophia said. "We bake some cookies but since we can't bake enough cookies to fill all of our cookie needs, we actually have people donate cookies. But our rule is that they have to be homemade."
People in the Tanglewood and Treesdale housing plans traditionally donate baked goods for the sale.
Giant Eagle gave the girls a $200 gift card to buy ingredients.
Not eating what they bake is the hardest part of the sale, said Sophia and Chloe.
"We try to limit ourselves," Chloe said.
Before Sophia's family moved to Treesdale, all of the girls lived in Tanglewood. That's how they know each other.
"We all like to bake, and Chloe's mom had started the foundation, and we thought we would do something to help out the foundation," Sophia said.
"To date, we have raised more than $3,500 in our first three bake sales," Sophia said. "One hundred percent of the proceeds benefit the foundation."
The girls' fourth annual benefit bake sale will open at 11 a.m. June 8 in the yard beside Chloe's home at 201 Briar Hill Court in Tanglewood.
"It's better to get there early," Sophia said.