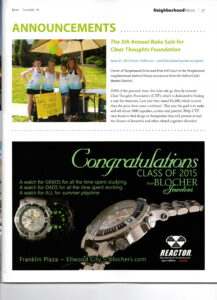 Neighborhood News, Pg 58 – Treesdale Life – October
Treesdale Residents, Making a Difference
On Friday, November 6th, Clear Thoughts Foundation (CTF) is hosting their biggest fundraiser, Roll For A Reason – Monte Carlo Casino Night at the J. Verno Studios on the South Side. Tickets are $150 per person and include a fun filled evening with hors d'oeuvres, carving stations, candy & dessert bar, open bar, entertainment, and celebrity dealers. Play games such as poker, black jack, craps, roulette & slots while participating in the live silent and Chinese auctions. Cocktail Attire is required.
Clear Thoughts Foundation was established in 2010 with the primary purpose to raise funds to discover drugs and novel therapeutics (biogenetics, stem cells, etc.) to stop the effects of dementia and eventually end this terrible disease. CTF is laser focused on raising funds to end Dementia.
CTF's 2014 Gala – Magical Memories Gala – raised approximately $68,000 for Dementia research. Exciting news from last year's gala was the creation of the Donald M. Jameson Fellowship. This fellowship award provides financial support to a scientist working to discover drugs to stop Dementia. The inaugural fellowship was granted to Dr. Roya DePasquale, a distinguished neuroscientist who is an expert on neurodegenerative diseases. Dr. DePasquale is conduction her fellowship research right here in Pittsburgh.